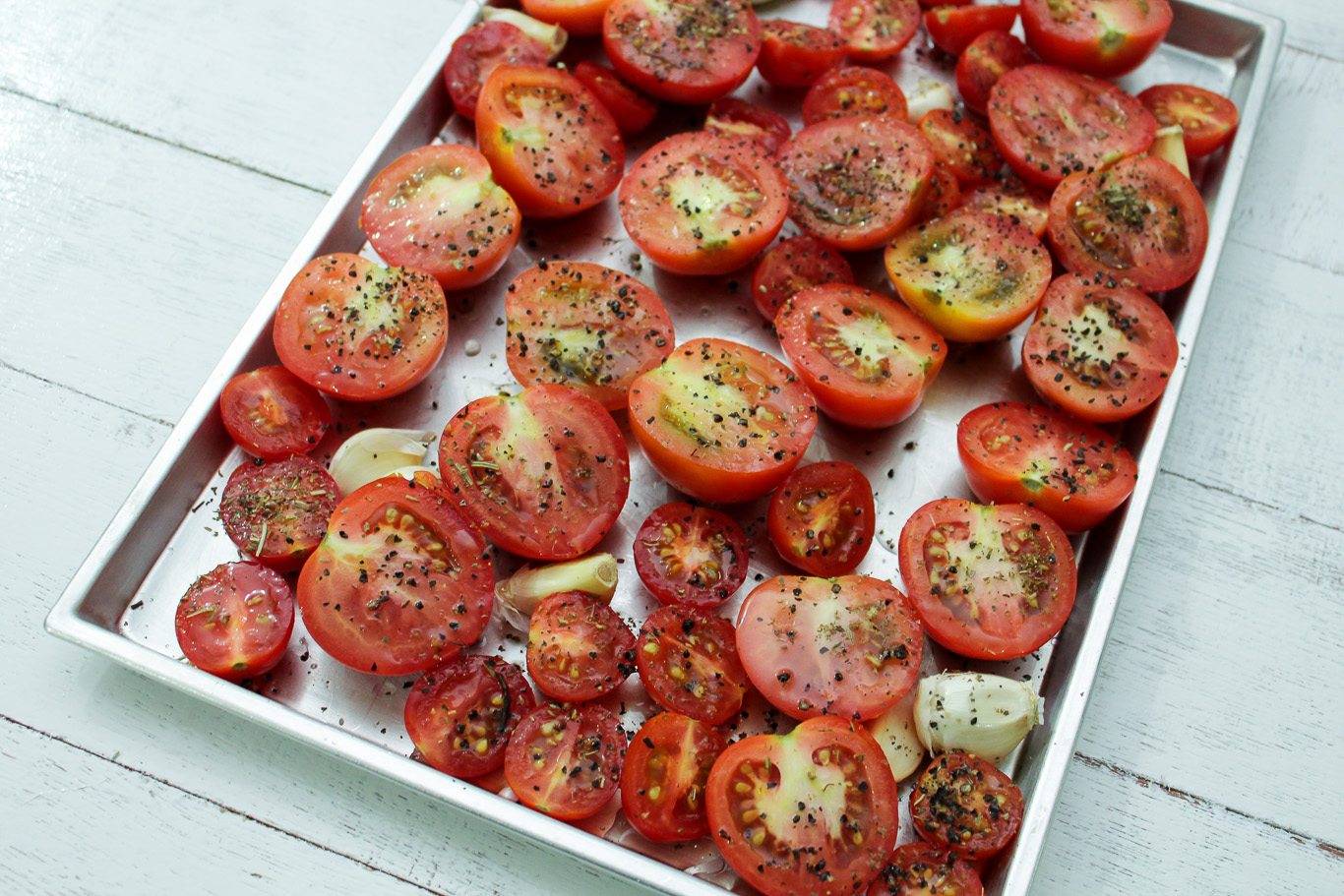 I love oven-roasted tomatoes. They have incredibly intense flavors and when chopped up, they make a great condimento for pasta! Tomatoes somehow get quite intensified after roasting. I just love the intoxicating aroma that lingers around the kitchen while the tomatoes are roasting away with the garlic, herbs and olive oil. Yums!
I have tried roasting tomatoes using various approaches. Nigella's would recommend preheating the oven on a high and after placing the seasoned tomatoes in the oven, she would immediately turn it off. These tomatoes are then left in the oven overnight. These are perfect for people who do not want to have their oven working for a couple of hours. This method yields tomatoes that are slightly roasted but still really yummy. If you want to give it a try, the recipe is right here.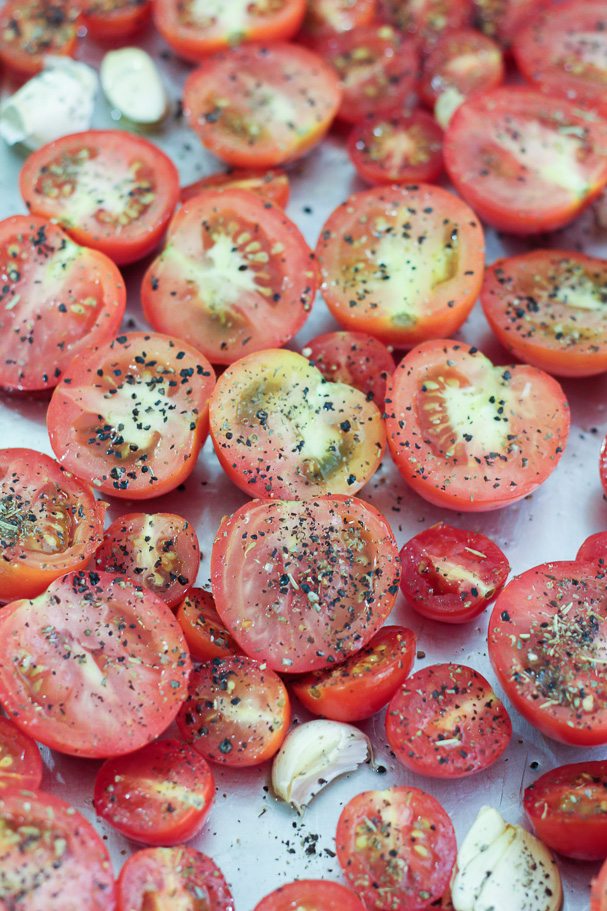 Ina Garten recommends 450 degrees for 30 minutes and Smitten kitchen recommends a slow roast at at 225 degrees for three hours. There is no wrong or right approach to this. It is really a matter of preference. Personally I feel that whichever method/duration you use to roast your tomatoes, the results would not be disappointing at all. The magic starts the moment you place the seasoned tomatoes in the oven. Even if your tomatoes are dry or dull, a little time in the oven turns them into yummy, sweet, concentrated bursts of tomato goodness.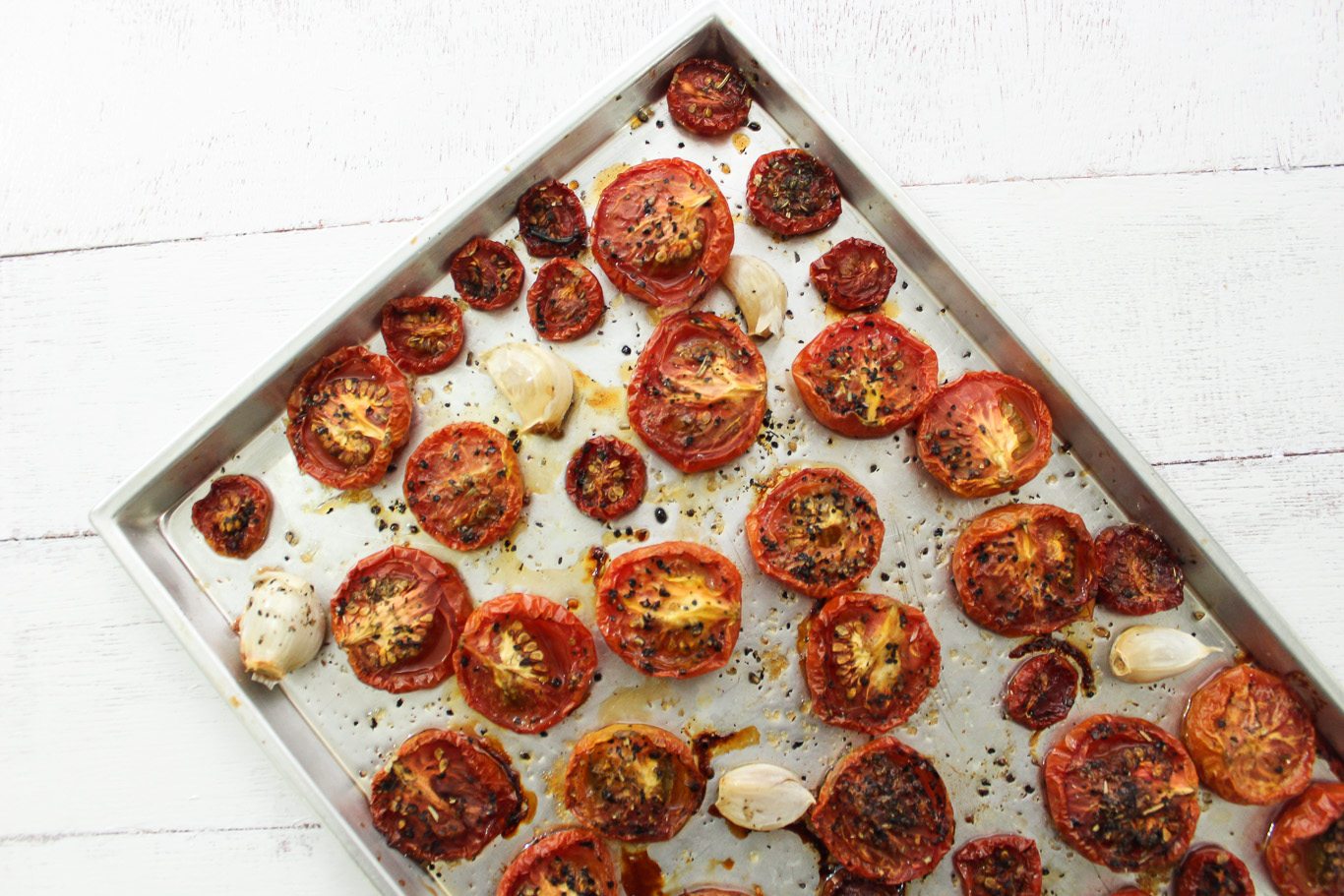 This time round, I did the slow roasting method. Slow roasting caramelizes and intensifies the flavor of the tomatoes and I loved how these were slightly charred on the edges! Slow roasting is also perfect for me because I get to check the tomatoes every 30 minutes. Checking tomatoes every 30 minutes = taking 1 tomato off the tray for "checking". Checking for me means to taste it. I actually look forward to the opportunities to pop these tomatoes in my mouth every now and then. I started with a tray full of tomatoes and I ended up with less. It is not because the tomatoes shrunk down too much, but I was literally eating it off the pan. These slow roasted tomatoes were SO DARN GOOD! These delicious roasted tomatoes are great as a topping for bruschetta and good in salads. I mostly find them useful whenever I want to do a quick pasta toss. I would normally pair these roasted tomatoes with a few other ingredients to create a speedy pasta toss.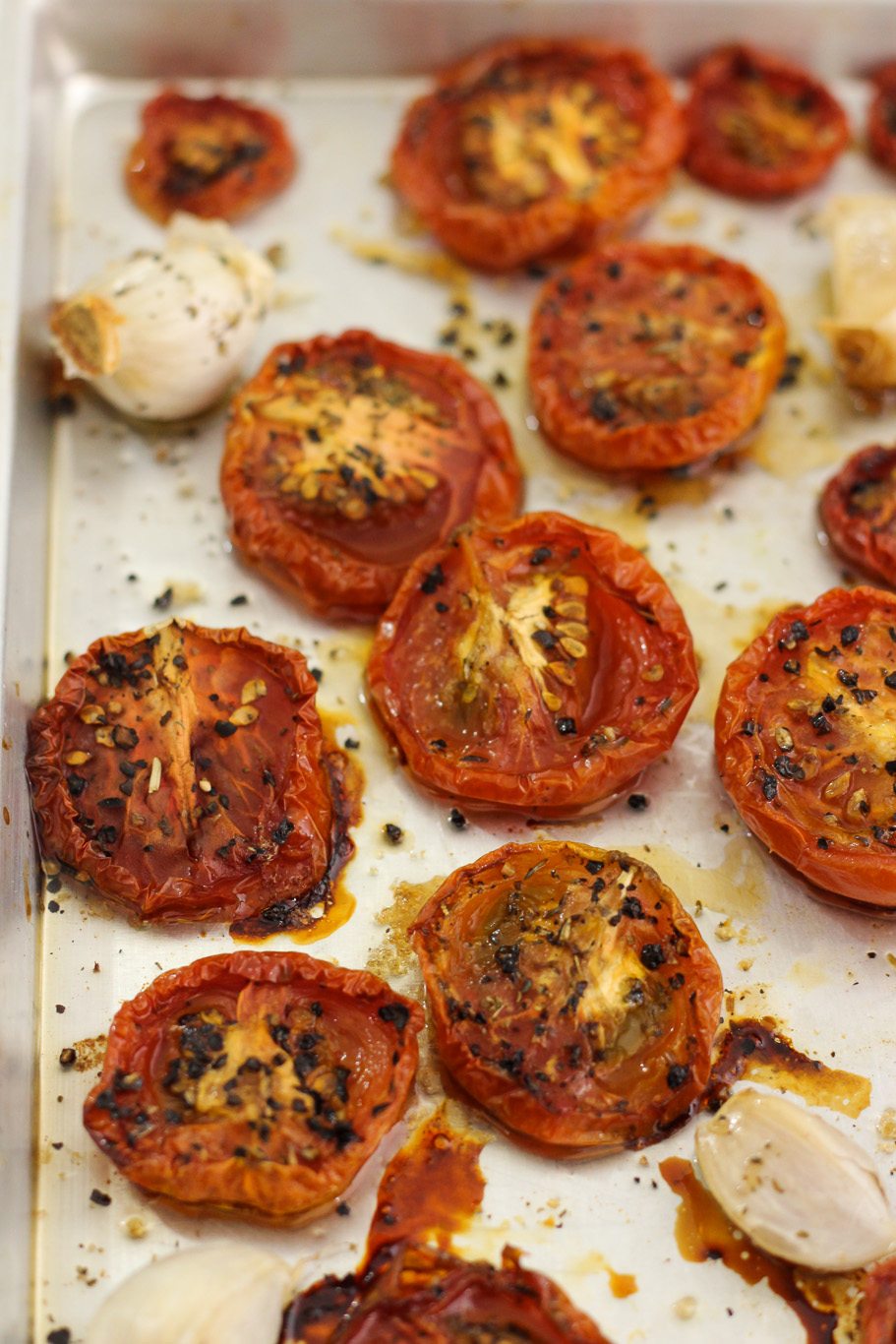 Most of the time, when I am seasoning my tomatoes, I would just use salt, black pepper, olive oil and dried herbs. This time round, I added a tablespoon of brown sugar and it was phenomenal. Just as to how a pinch of salt would accentuate the taste of chocolates, the brown sugar brings out the best of flavors in these tomatoes.
If you are a fan of tomatoes, these slow roasted tomatoes would knock your socks off. If today was 31st December and I am told to make a couple of new year resolutions then having a jar of this in my refrigerator at all times would be one of those. It is life changing. Heat up some olive oil in a pan, add chopped garlic and add a couple of these roasted tomatoes, chopped as well. Season with salt and black pepper and there you have a delicious plate of pasta. I told ya, these tomatoes are life changing, didn't i?

Slow Roasted Tomatoes
Ingredients
500 grams tomatoes
6 garlic cloves - Skins on
1 tablespoon brown sugar
2 tablespoon olive oil
¼ teaspoon dried Italian herbs or any of your favorite herbs.
Salt and freshly black pepper to season.
Instructions
Preheat oven to 150°C.
Halve the tomatoes horizontally and place, skin-side down, on a baking tray.
Sprinkle with the brown sugar, salt, herbs and black pepper.
Scatter the garlic around the pan and drizzle the oil over the top and give it a good mix.
Grill for about 3 hours and give it a check every 30 minutes.
Cool before storing in a jar.
Nutrition Information
Calories:
415
Fat:
28g
Saturated fat:
4g
Unsaturated fat:
23g
Trans fat:
0g
Carbohydrates:
41g
Sugar:
27g
Sodium:
188mg
Fiber:
7g
Protein:
6g
Cholesterol:
0mg