Today "The Italian" is taking a backseat and the Indian is dominating the kitchen. If you are clueless as to what I am talking about, read this.
Even though me and my parents were born and raised up in Singapore, my late maternal grandfather was from Kerala, the beautiful state in South India, often referred to as Gods own country. A land of fresh seafood and a land of coconuts trees, I do hope to visit Kerala someday and I am already planning to have coconut water for breakfast, lunch, dinner and in between. Infact I might just shower in coconut water too. I LOVE coconut water and I am glad that it is nutritious. I really drink coconut water like it's my job!
On another note, it is the first few hours of the weekend!! I am already starting to do the happy dance. It is also Hardi's Birthday! Hardi is the dude that is in-charge of the IT related stuffs in here at Maya Kitchenette. Happy Birthday Hardi!! May you be blessed with all the finest things in life. Thank you for helping out to grow this blog and thank you for doing the dishes at times. 😀
I know how much you love Indian Cuisine, thus this recipe is especially dedicated to you!←
Fish Curry is a very popular dish not only in India but also equally popular in Singapore and Malaysia as well. Over here in Singapore, even the Chinese love Fish Curry and it is commonly eaten with Rice or Paratha. I usually add some vegetables in Fish Curry and the vegetables would vary everytime. The commonly used vegetables would be okra/lady finger, bringal/eggplants and pineapple.
For those of you who are not comfortable with cooking curry, it is really simple. You just have to give your spices some time for it to cook really well. I have included some tips that might help you to make a better curry the next time!
Use a good amount of onions. For more robust flavors, always sauté you onions till golden.
It is best to fry the onions first before adding the garlic and ginger as onion takes a longer time and you do not want to over fry or burn your garlic/ginger in the process.
If you are adding either milk, coconut milk, yogurt or cream to the curry, do add it towards the final few minutes and that too over low heat else there would be separation of the curry and the milk/cream that is being used.
Curry paste are very prone to burning, so you would need to add some water if it gets too dry while you are frying your spices. Remember that you are frying the spices and not boiling it, so do add a little water at a time.
Last but definitely the most important tip, spices needs to be cooked well.
How to you tell that you have cooked your spices well enough?
Somehow when the spices are cooked well, you can literally smell the cooked spices. Instead of the strong smell of the spices, it would mellow down a bit and you will get a warm and cozy smell of curry. Secondly, if you have cooked your spices well enough, the oil would float on the surface of the spices. So basically, the oil would separate from the spices.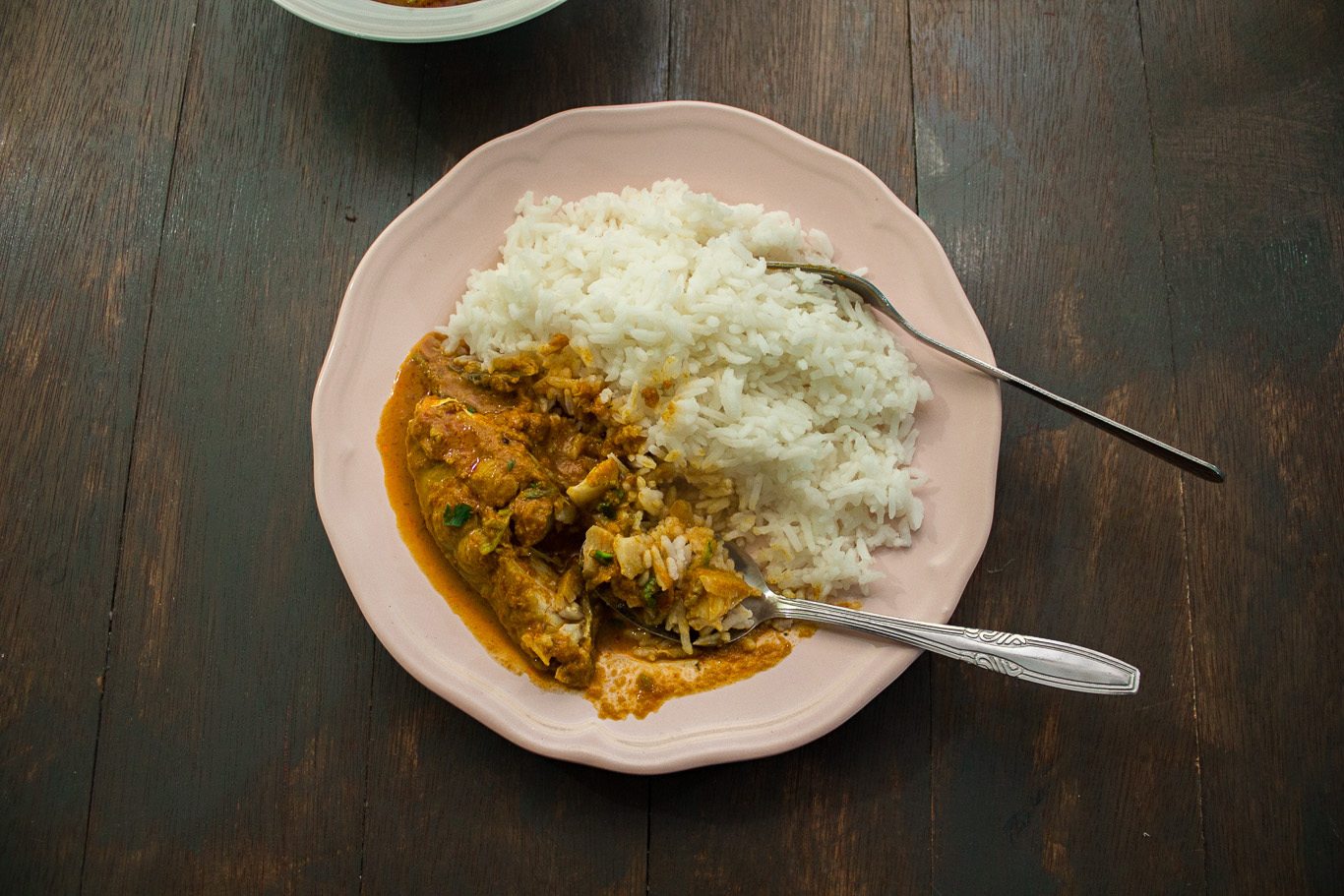 This Fish Curry Recipe is delicious and it keeps really well. You can make this ahead of time and just store it in the fridge for a few days or in the freezer for a few weeks. Do give it a try people! Oh this recipe works well with shrimps too!
Tomorrow the niece is coming over and we are gonna bake Cheesecake and Chocolate Chips Cookie Brownies. She is basically in charge of damage control. I am gonna do the baking and she is gonna do the packing. (Read: She is going to take the bakes home). Hmmpft.
Fish Curry Recipe
Ingredients
800 g fish - (See notes)
Juice of 1 lime
4 tbsp Cooking oil
2 onions - sliced
2 green chilies - sliced
3 tomatoes - quartered
Vegetables of your choice (I usually either use okra or eggplant)
3-4 tbsp tamarind juice (See notes)
¼ cup coconut milk or cream
¼ tsp mustard seeds
¼ cup chopped mint
¼ cup chopped cilantro
Curry leaves (omit if not available)
Ingredients to be blended into a paste
2 large onions
5 cloves of garlic
25 grams dried red chilies - de-seeded and soaked in hot water for 10 minutes
2 cm x cm slice of ginger
4 tbsp fish curry powder
Instructions
Cut the fish into individual slices.
Rub the fish pieces with some salt and juice of a lime. Keep them aside for 10 minutes and give it a quick rinse.
In a food processor, add the ingredients that is supposed to be blended with some water and process to make a thick paste.
Add 4 tbsp of oil in a wok and fry the curry leaves and sliced onions till golden.
Once done, add in the green chillies and mustard seeds and fry for another minute.
Add in the blended paste, season with salt and continue frying for about 15 minutes till the curry paste smells delicious.
Add in tomatoes and the vegetables and cook for 5 minutes.
Slowly drop in the fish and simmer for about 10 minutes.
Once cooked, pour in the tamarind juice and season with more salt if required.
Finally add in the coconut milk/cream and top with the mint and cilantro.
Serve with rice or bread.
Notes
For the fish:
You can use any fish that you prefer. Mackerel, pomfret and tilapia would be good. You can even give salmon a try!

Tamarind:

For the tamarind juice, you can either use pre-made tamarind juice or concentrate from the store or make your own juice. Take about 1 tbsp off a tamarind block and soak it in ¼ cup of water. Squeeze and strain the juice and this is ready to be used.