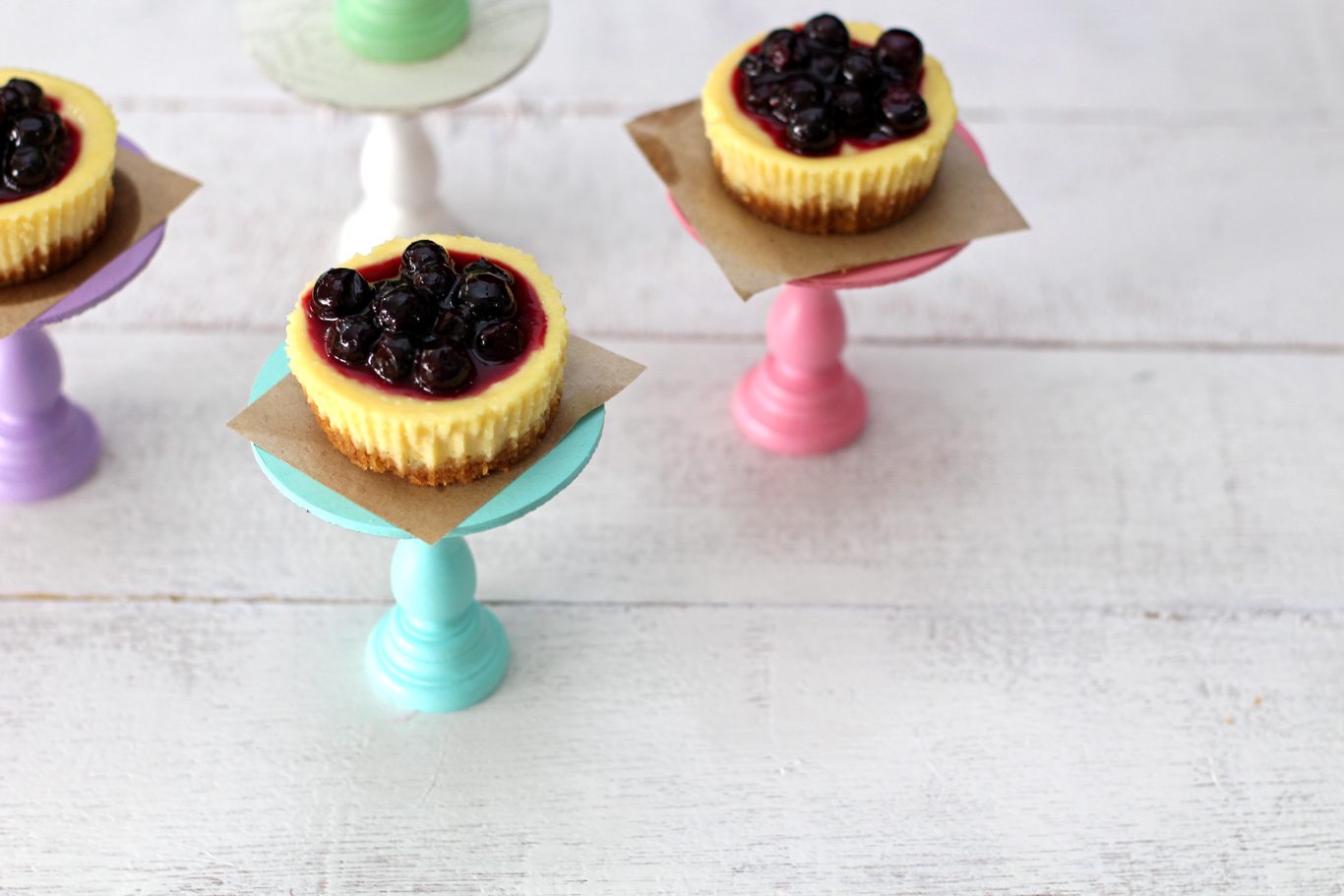 Dunch you just love Saturdays and Sundays? Although I rarely get to hang my apron over the weekends, I still <3 the weekends. I think, the person who came up with the idea of a 5 working days and only 2 days weekend is a sadist. Who works hard for 5 days and play for only 2 days?
 "An imbalance occurs when you have too much of some things and too little of others"
 
I can't believe that all our lives, we have been lacking in symmetry. Now I know why we are told to party hard on weekends. We DESERVE this. On Friday, I told myself that I am gonna make full use of my weekend. I am very determined. *palm fist* So I am thinking of making one of these over the weekend.
a) Fruit Tarts
b) Peach and cream cupcakes 
c) Creme brulee tart
Decision making can be so complicated at times. Everyday in life, you have to make difficult choices and I shall not stress myself any further by thinking as to which one should I choose from this short list. To make life simpler, I came up with another option and it says
d) Bake all of the above and eat them all too.
When I said all, I didn't mean that I will eat everything people. Just a morsel of each. 20 repetitions. That's it. Pictures of the bakes should be coming up soon. Soon would usually mean a day later for normal people and 103 days later for someone that has mad skills in procrastinating.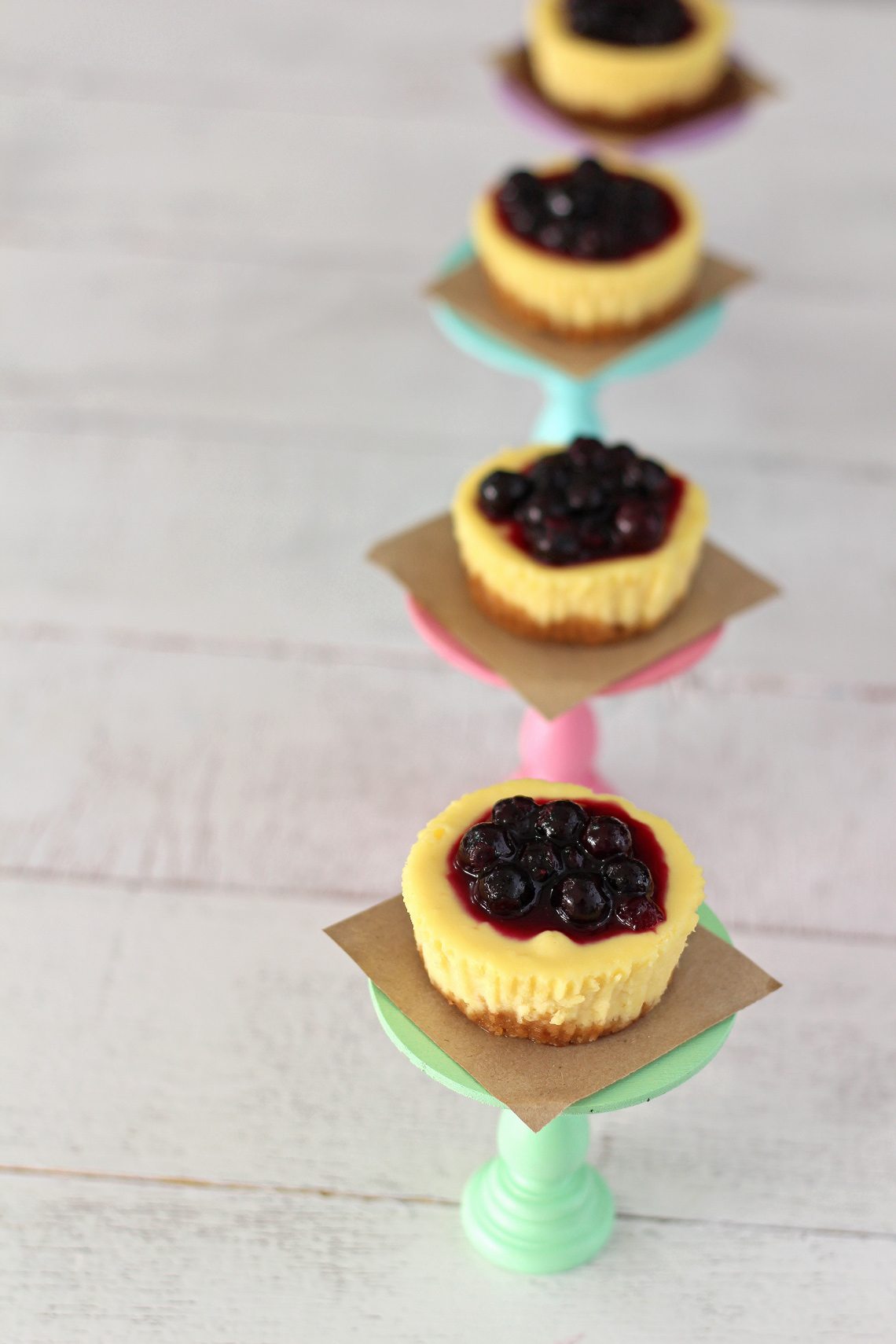 Last weekend I made something super delicious. It was just dreamy. Let's start from the bottom. A buttery crust that is sandy, yet it holds everything together. Smooth velvety and creamy layer next, with a hint of lemon. The final layer is a home-made topping using sweet and plump blueberries. The gorgeous and deep color of the topping made these really sexy and seductive! Ohhh….Yesss.
I hope you realized that I am just talking about these Mini Blueberry Cheesecake.
If you love to have a good cheesecake for Tea, this recipe is for you.  If you're open to the idea of cheesecake for breakfast, supper and any other time of the day, you could just be my missing twin that I have been looking for.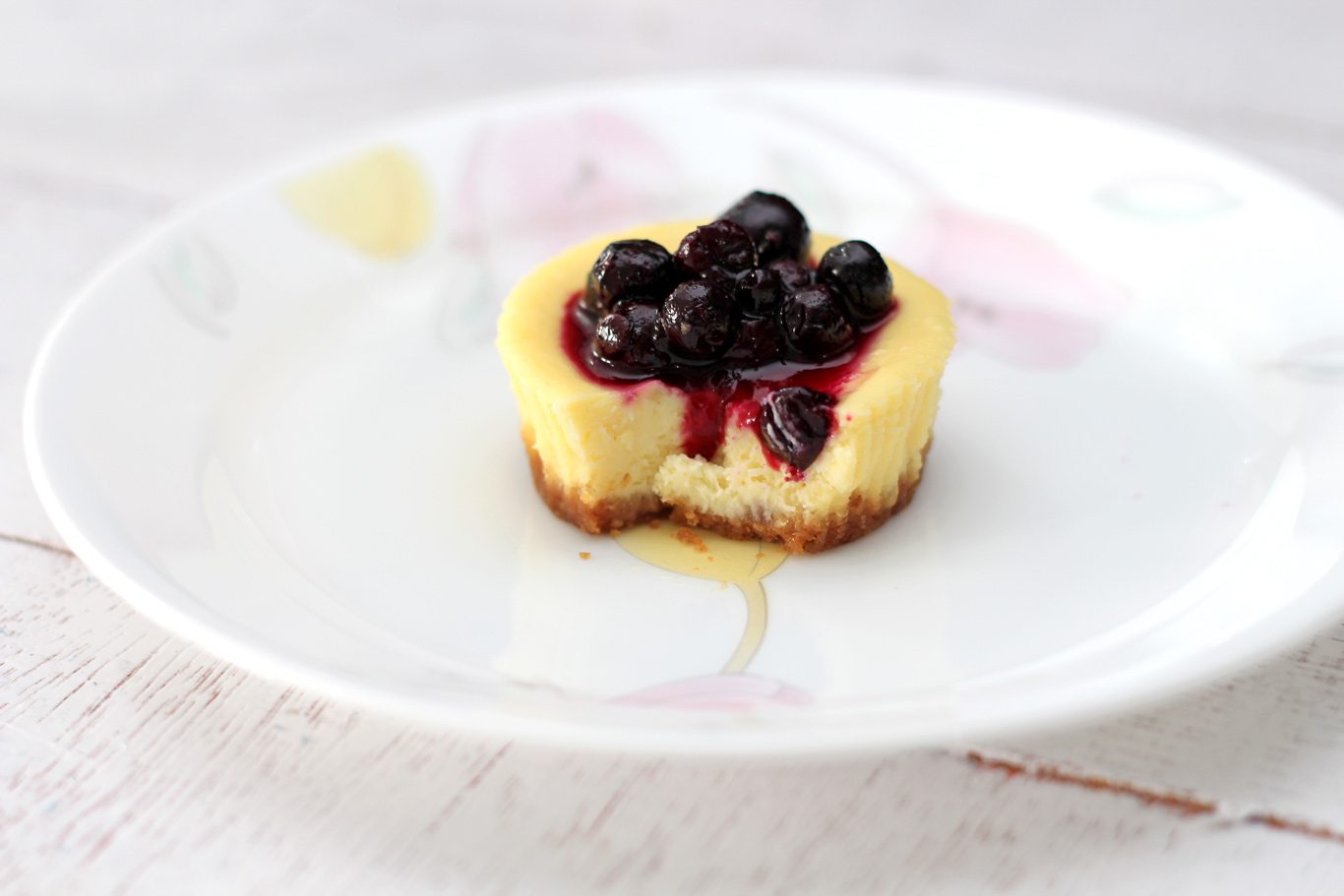 Mini Blueberry Cheesecake
Author:
Maya's Kitchenette
Ingredients
For the blueberry topping
1 cup blueberries
3 tbsp sugar
2 tsp cornstarch
¼ cup water
1 cup blueberries
1 tbsp lemon juice
For the crust
200 g Graham cracker
1 Tbsp brown sugar
40 g salted butter - melted
For the cheesecake
450g cream cheese
⅔ cup granulated sugar
Pinch of salt
1 teaspoon vanilla
2 large eggs
⅓ cup sour cream
⅓ cup heavy whipping cream
1 tsp lemon zest
Instructions
For the blueberry sauce
Cook all these ingredients in a saucepan over a low flame, stirring constantly.
I wanted the blueberries to retain their shape, so I cooked for about 10 minutes. If you prefer yours all mushy, cook for 15 minutes.
For the cheesecake
Preheat oven to 170C/335F.
Line a 12 cavity muffin pan with paper liners.
Pulse the graham crackers in a food processor or blender until finely ground. You can also do this by hand. Mix in sugar and stir in melted butter.
Spoon about 1 tablespoon of the graham mix into each cavity of the cheesecake pan. Using your finger tip to press lightly and level the surface. Keep in fridge for 15 minutes.
In a mixing bowl, cream the cream cheese using an electric mixer, with the paddle attachment.
Mix on medium speed until smooth, soft and creamy. Add the sugar, and beat for a further 2 minutes.
Mix in the salt and vanilla. Add the eggs, one at a time, beating for one minute after each addition. Remember to scrape down the sides of the mixer bowl
Pour in sour cream and lemon zest, beat until incorporated.
Pour in heavy cream, beat until incorporated.
Take out the muffin pan from the fridge and spoon the cream cheese mixture over each cupcake cavity, till it reaches almost to the top of the cupcake liner.
Bake in the preheated oven, for about 20 minutes.
Remove the cheesecake pan from the oven. Let it cool on a wire rack.
Carefully remove the cheesecakes and store in an air-tight container and chill in fridge for a few hours or overnight.
When serving, remove the paper liners and drizzle blueberry topping on top of each cheesecake.
Notes
It is important that you beat the cream cheese over fairly low/medium speed from start to finish. Do not beat on high speed as you do not want to incorporate too much air in the mixture.
Nutrition Information
Serving size:
16
Calories:
260
Fat:
16g
Saturated fat:
9g
Unsaturated fat:
5g
Trans fat:
0g
Carbohydrates:
26g
Sugar:
18g
Sodium:
192mg
Fiber:
1g
Protein:
4g
Cholesterol:
69mg